Well..Seeing how I'm "Back" now, I think I should go ahead and start finishing up some of these skins, here. These are all the skins I left hanging.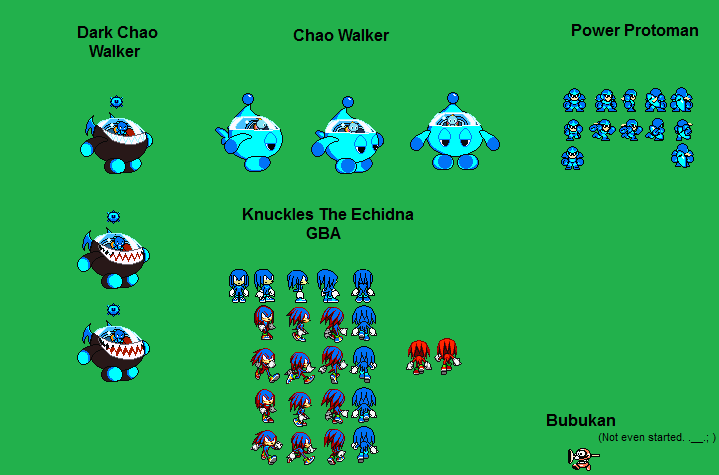 Chao Walkers: I was working on both of these at the same time. Progress was real slow, seeing how big they were. I managed to get a couple rotations for the regular walker, and some attacking frames for the dark walker. That's about it.
Power Protoman: The very first skin I tried to make. It didn't work out well because I didn't organize the sprites needed, so my editing sheet was very cluttered and lackluster. Not easy to work with. I ended up abandoning this project to go and make Darkwing Duck, my first skin released. It's too bad; Power Protoman actually looks pretty cool.
GBA Knuckles: I probably could have finished this easily if I actually ever got around to working on it. Poor, neglected Knux.
Speaking of neglected, did anyone even notice Bubukan there?
So yeah, this isn't even counting all the 0% completed stuff on my To Do list. I didn't even
look into
starting those, yet.
Right now, I'm not sure what I wanna do. Should I finish these old skins here? Or should I abandon them and let someone else take up the job, and start fresh with something new? (If I'm to continue working on the Chao Walker, I will no doubt need some help.)
I'm thinking about getting back to working on Knuckles. That's a request that both Kapus and I have been putting off for years, it feels. I'm also probably going to update Gizmo again, because while I was making his class I noticed how I messed up the aligning in his sprites. There's also something I'd wanted to add to it. In fact I'd upload an update right now, but it's late and I'm too tired/lazy at the moment.
Well, it looks like I'll be getting active around here again. Hopefully I'll get stuff done quickly, 'cause there are other stuff I wanted to get done as well.