1
« on: July 29, 2020, 11:34:49 PM »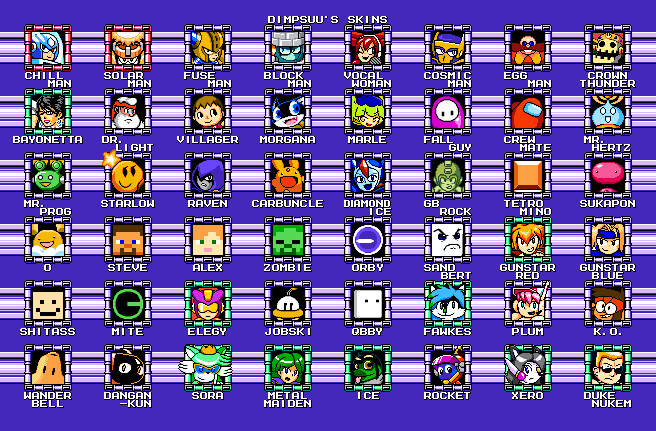 Hello, hello!
Huh... I've been here before? Well, I suppose to begin a fresh start I've decided to make a new thread where all new skins will be posted... if I continually go back to this of course!
If you want to check out the old thread,
click here
Now, let's get started on these new attendees to the fray! To download which one you want to play just click their respective name...
Updated as of April 17th, 2021
Extra Credits:
Blaze Yeager - Assistance with Chillman and Solarman's skins, co-designed Cosmicman's current design
Pegg - Fuseman and Blockman mugshots
Dio-ZX - Finishing Blockman's skin
Thresh - CrownThunder mugshot
JaxOf7(?) - Dr. Light (Ryu) base sprite
FTX6004 - Huge help on the Dr. Light (Ryu) skin
Dr-Zeos - Help with the Elegy skin + importing
Molly - Dangankun base sprite
Bubble Frog - Used art by them to create the mugshot used for this thread